Are our steps Ordered?
Recently I finished reviving an older work I set for Ailey 2 back in 2001. This time around the Seniors in the B.F.A. program will bring it to life. Rehearsals have been really exciting and challenging for us all in many good ways. No matter where i go it's always a challenge to push the students and professionals to let go of thinking solely about their technique and more about what their hearts feel and to focus on the theatrical and artistic side to dance. I believe without theatricality and genuine storytelling through narrative or simply music…there is no dance. It was so rewarding to watch these young dancers step  up to the plate and start to explore performing from their hearts without fear of judgement by themselves or their peers.  One day I stumbled into this really beautiful and regal picture of Mr. Ailey. I couldn't help but think, what if he could talk to us through the picture the way the subjects of portraits in Harry Potter speak to the living? : ) lol. i know crazy….but i did think that. What would he say? Would he like what i was passing down to the next generation? Would he say keep doing what you do..or would he say get out!!?  What would I say?  

I am so grateful he made his dream a reality. I would love to pick his brain about choreographic isolation and loneliness. I would love to ask about success and failures. I would love to ask him about Love. I probably wouldn't stop talking! The first company I ever saw was The Alvin Ailey American Dance Theater. It was a school trip and we got to see a lecture demonstration of the original cast of Ulysses Dove's EPISODES and Mr. Dove was there explaining the work to us! I then went on to see Night Creatures and Revelations and was never the same.  My first commission by the Ailey organization was back in 1999 when I was still in college. Ms. Nasha Thomas -Scmhidt  asked me to create a solo for a performance group she ran at the building on 61st street. Since then the relationship has garnered over 12 works for the organization.

 It's pretty cool to be able to continue this relationship as each group steps forward. I do hope the dancers leave my creative process with something…and Mr. Ailey I hope you are inspired by what you see, and patting yourself on the back for what you've created for us all.  I really do wish you could pop out that frame for just 2 hours!!!!  Lol.       So Grateful.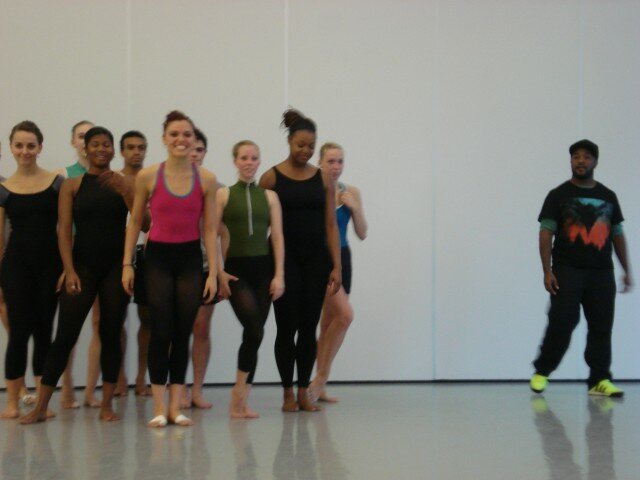 Darrell